While setting up a new Citrix Virtual Apps Server 2019 image in my lab I ran into a peculiar issue.  My image is going to be streamed using Citrix Provisioning Services so as recommended practice dictates, I needed to move my Windows paging file from the default system managed C:\ drive to my Write Cache secondary drive.  After making these changes however, I kept getting a warning message after the system reboot.
"Windows created a temporary paging file on your computer because of a problem that occurred with your paging file configuration when you started your computer.  The total paging file size for all disk drives may be somewhat larger than the size you specified."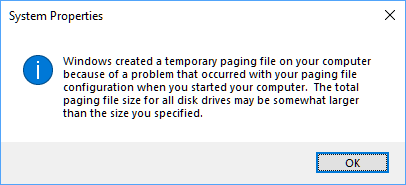 Double-checking my configuration, I decided to try and up the pagefile size but still received the same warning on the next reboot.  A little bit of googling turned up a Microsoft TechNet post that says this is a known issue and is fixed in the January 22, 2019 Cumulative Update.
After completing the update, I was off to the races and could finish building my new Citrix Virtual Apps image.
Hope you found this helpful.  Until next time, thanks for reading.
-Shane